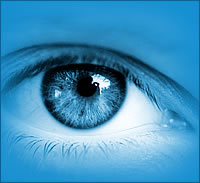 Global Context 'Vision 2020 - The Right To Vision'
Today according to WHO estimations, 40 to 45 million people worldwide are blind. Out of this nearly 60% reside in Africa, China and India. Despite a half century of efforts, the global burden of blindness is growing largely because of the population growth and aging. If additional resources are not urgently mobilized and efforts are not made to curb this trend by 2020, the burden can double. The developing countries will bear the brunt.
According to an estimation about 80% of global blindness is avoidable by prevention / control. Significant progress has been achieved by the efforts of World Health Organization, UN Agencies, Members States and Non - Governmental Organisation (NGOs) & Private Sector Organisations. Efforts are wanting vis-à-vis the enormity of the problem.
Indian Context
India has approximately 10 million Blind persons. Out of this as many as 2.5 million (approximately 25%) fall in to the category of corneally blind. Out of this, again, unfortunately more then 1.5 million are children within the age group of 1 - 12 years.
Corneal blind person can get sight instantly if their defective cornea is replaced with good human cornea. Truly, here is a case of rectifiable blindness. But, despite all the advances and progress made in medical science and technology, there is no man made substitute available for human cornea.
Cornea
The cornea is the transparent front film - like lens covering the eyeball, to prevent dirt and infection from entering the eye. If the cornea is damaged, human beings become blind. Damaged occurs either due to polluted environment, mal-nutrition, illness or accidents. Incidents of blindness are primarily amongst the poorer section of society. It is heart-rending to see these impoverished persons having to bear the additional handicap of blindness.
Good cornea can be obtained from person after their death. In fact this is the only part of the human body that can be re-used, after death has been confirmed. Hence in India, with its vast population, eradication of corneal blindness can be achieved rapidly if there is an organised and co-ordinated effort for retrieval of corneas after death of person. But so far this has not happened. India has no laws (as in the West) of presumed consent for automatic corneal removal from medico-legal cases of death. Fear of misuse, probably, prevents such legislation from being enacted. Hence efforts has to be directed in voluntary eye donations.
Impediments
There are four impediments encountered in the efforts to retrieving eyes from deceased persons.
Ignorance / lack of awareness with respect to the need for cornea donations among the people
Religious superstitions held and fostered by many religious denominations / sects.
Family emotions at the time of death of loved ones (sometimes even against the expressed wishes of the dead!).
Apathy.
In order to surmount these anomalies, certain religious and social voluntary organisations and other NGOs have come forward to address these problems. Volunteers make personal contacts even in remote areas in village and rigorous efforts are made to remove religious misinformation and apathy and to encourage people to donate eyes. This of course is an enormous task considering the length and breadth of the country and also the vast population to be contacted and served.
Retrieval Problem
Retrieval of eyes entails the following limiting factors :
Retrieval has to be effected within 3 to 4 hours of death of the donor.
Retrieval has to be done by qualified medical practitioners only as per the law.
Family members of the donor should give their consent for removal after the death of the donor (irrespective of prior registered consent by the donor). The co-operation on the part of family members still wanting in majority of cases.
Retrieved corneas have to be placed in proper media so that they reach the corneal processing centre within 6 hours of the death of the donor.
The impediments as well as the limiting factors as above pose great challenges for the persons engaged in the voluntary service in the field. Prompt and expedient action is what is required. This entails dynamic logistic management, with effective and efficient co-ordination, which will make sure proper utilization, so that money and efforts are not wasted.
What we can do?
It is of great concern that against an annual demand of approximately 4,00,000 corneas, as per the statistics, we, in India, could collect only nearly 14,000 annually. The supply - demand equation is incompatible and pitiably. The gap between supply and need is widening day - by - day. Because of this anomalous predicament, we have got ourselves committed to help eradication of corneal blindness in India, and spreading eye-care awareness by the application of Information and Communication Technology (ICT – also known as Internet, Computer and Telephony) and Networking.
Many a times, it is simply lack of adequate information and linkage between various stakeholders such as eye banks, hospitals, blind persons and donors that result into such shortages. We propose an ICT model as a solution to this problem.
The basic premise we work with is "Available corneas from donors (after death) are more than adequate to fulfil demand for corneas", provided
Corneas could be removed within a couple of hours from the body of donor.
People could be motivated to donate "eyes".
Grassroot work
In state of Gujarat, we have 40,000 (approx.) villages, most of them are situated in remote areas, including tribal belts. Voluntary organisations despatch their dedicated volunteers to these villages to propagate their ideologies among the masses. We have made tie - ups with these organisations to propagate the themes of our projects on Blood and Eye donations. The volunteers get the people convinced of the necessity of blood and eye donation. Since socio - religious groups run most of these organisations, their efforts are yielding rich dividends. Socio - religious and their beliefs form the main fabric of Indian Society.
In order to motivate the volunteers, we have been meeting their travel and incidental expenses by paying a meagre amount of INR 1000 (US $ 20 approx.) every month.
ICT based model
We offer ICT services for increased eye donation, quality corneal transplants and better eye care through a wider network of eye banks, eye hospitals, donors, volunteers and eye care centers. The network will ensure availability of cornea to every blind person who needs it, at the earliest, assured supply of good quality cornea, and optimal utilisation of available resources and facilities. We also want to create a Knowledge Bank and Information warehouse on eyes, eye transplantation and related issues management such as :
Blindness eradications.
Eye care.
Cornea removal, storage and transplantation .
Regulations and standards- Roles and Responsibilities .
Transplantation related problems / infections.
Donor awareness, motivation and selection .
Co-ordination and cooperation among eye banks and other related institutions .
Proposed Solution
The solution for the above issues lies in Networking of eye banks and other related institutions with focus on Information exchange to facilitate
Understanding amongst eye banks and institutions to co-operate with each other.
Provide online registration of eye donors / recipients.
Harness amazing reach of Internet to reach Regional, National and Global levels.
Coordinating between donor eye, Eye Banks, Eye Hospitals, Institutions and recipients.
An Internet portal would be the platform for networking. This portal would also serve as a platform for creating a world wide knowledge bank and an information warehouse taking advantage of the developments in internet technologies and knowledge management. This would involve collection, compilation and collation of the knowledge generated in this field through appropriate networking of eye banks, institutions, government agencies and awareness of individuals.