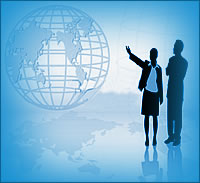 Our role is of a catalyst – facilitator - multiplier in our client's business. We add value to your business by bringing new opportunities.
The tangible value added services we extend to you are :
Strategic alliance / Joint venture / Acquisitions
Strategic tie-ups have gained prominence in today's world of global networking. This has been our forte with our experience and knowledge of the field.
We search out opportunities for strategic alliances and joint ventures, compatible to your needs. We even create possibilities where they don't exist. Our innovative approach and thinking has turned out to be miracles for clients.
We also work on acquisitions.
Global positioning / International marketing / Agency network / Product launch
We create an export market and agency network by way of extensive marketing. We also undertake product launch and global positioning assignments.
Management Consultancy / Strategic Planning
We help our clients in strategic planning for long-term sustained growth and becoming a global player. We help in creating corporate vision followed by extensive help in implementation. We also groom our clients to face the new economy challenges.
Innovative Funding
We locate and manage innovative funding solutions for International business and Project funding, outside India.
Technology transfer
We also work for in and out-licensing of technology for our clients. We may help you locate appropriate technologies or benchmarking your company vis-à-vis global standards.
We also work and assist in locating appropriate global quality standards, which makes it possible to enter into developed world economy and removes entry barriers.
Support services like KPO, BPO, Software development, Sourcing etc
(Please go to the following page KPO / BPO)
We assist you by giving
A FREE initial consultation without obligation to establish your requirement and define the problem or assignment.
Experience and expertise to locate correct opportunity.
Best advice ensuring that we act objectively and in your best interest. If required, we assist you in actualizing it.
Timesavings - We'll find the business opportunity for you so you can focus on your core activities of business. We will work in staff function in your organization.
We bring global opportunities to your doorstep, at least cost.